Etsy Christmas Pun Gifts and Cards
It's the most punderful time of the year! It's tradition for me to give Christmas cards and gifts to my friends and family that will make them smile. Etsy is recognized as the best online shop to get homemade, vintage crafts and gifts – and often they have punny xmas gifts and holiday cards! If you're looking for a gift idea for your boyfriend, girlfriend, husband, wife, mom, dad, grandparents – or anyone that loves a good (or bad!) pun – check out my list of favs! This list serves as a gift guide of my top 10 favourite Christmas items I found on Etsy. I'm looking forward to see the smiles on my family's faces when they get my pun gifts 🙂 Enjoy!
A Christmas pun card from Etsy for fans of the world's best loved spirits! Starring Maker's Mark Bourbon, Bombay Dry Gin, Johnnie Walker Whisky, Patron Tequila, and Stolichnaya Vodka, this punny cheerful card is sure to bring out some laughs this holiday season. This card is also available as a boxed set of 8.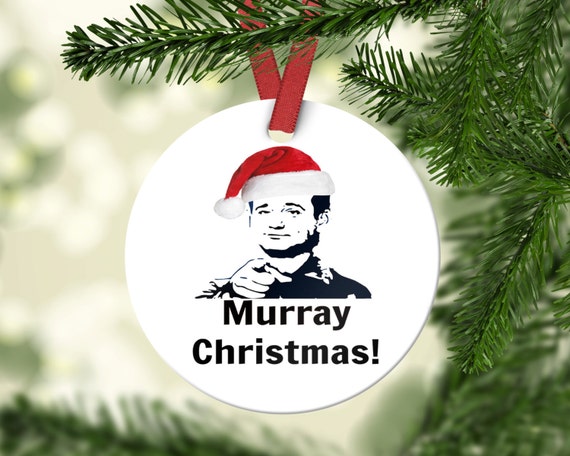 Murray Christmas! Be sure to not get Scrooged! This pun tree decoration from Etsy is made of porcelain and comes with a red ribbon for hanging. The image permanently adhered to the ornament using sublimation, therefore it will never chip, flake or peel off. Have yourself a Murray little Christmas!
Om For The Holidays! Get this perfect funny punny Christmas card idea from Etsy for the one that's most reindeer to you. Inside of the card is blank for your own personal message and each card is designed, printed, cut, scored and folded by the artist. It can also be customized to a different color or different wording if you message the artist. A Kraft coloured envelope is also included.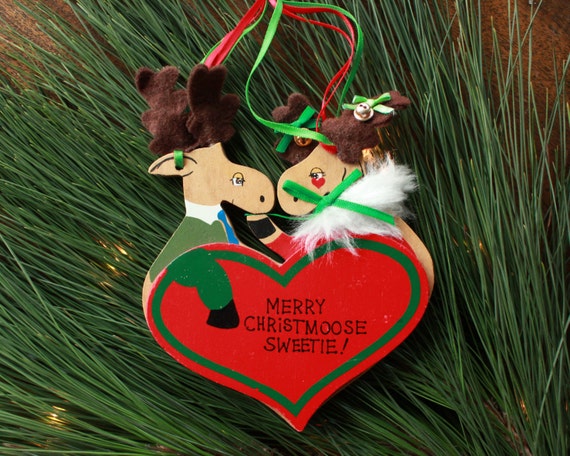 Perfect for a cute couples pun Christmas gift idea, this vintage decoration depicts kissing moose saying "Merry Christmoose Sweetie". The handmade Christmas ornament is made from vintage wood and felt. The male and female moose have felt antlers and the female has a faux fur collar and bells. It's painted jigsaw woodcut from the 1980s. A must-add to any couple Christmas decorations collection.
Bark the herald angels sing… this dog pun christmas card will have them smiling. From Etsy, this sturdy holiday card is hand drawn, scanned, and then printed digitally. Nothing says Christmas quite like a smitten Shar Pei sitting under the mistletoe!
Rockin' Around the Christmas Tree from Etsy! No need to wrestle over punny Christmas card ideas this year if they love to smell that The Rock is cooking in the holiday kitchen.Make everyone's Christmas Rock with old school fanny pack Dwayne "The Rock" Johnson! Blank inside, measures 5″x7″ and all cards are designed, printed, cut and packaged with utmost care and concern for top notch quality.
There's No Business Like Snow Business! Snowman Agent play on words from the lyrics "there's no business like show business". This unique hand drawn snowman punny Christmas holiday card from Etsy is like snow other! The card is blank inside for freedom of expression.

Fleece Navidad! A Whimsy and punny, animal humor for a pun Christmas card from Etsy is never a bahhhh-d idea. The cards are blank inside so you can write a personal message to make it extra special!

'Tis the season to get jolly! The well made 21 oz stemless wine glass is sold on Etsy for under $15. The vinyl is a high performance, self adhesive, calendared vinyl with a glossy finish with an outdoor durability of six years. Message the artist for custom ordering and personal colors.
Featured on Buzzfeed! This set of 6 very cute animal puns with the Christmas pun spirit are available for celebrations on Etsy. Bear-y Christmas, The North Mole, the Ghost of Christmas Pheasant and their fury friends are ready to send punny wishes for the holidays. The blank cards with original illustrations are printed on quality paper and come nicely packaged, according to positive reviews. The pun cards are also available sold separately.