Top 10 Pun Calendar 2018 List
Having a pun a day calendar or a pun wall calendar guarantees a smile every day. It's pretty much a 2018 pundamental item to have.. or include among your pun gifts. This list gathers the best from Amazon and Etsy and includes all three formats: pun desk calendar, pun a day calendar, and pun wall calendar. It also covers many kinds of pun-intended jokes: animal puns, literary puns, fruit puns, Star Wars puns, and cute romantic puns. It's a funny and playful gift idea for every punny person this time of year: a boyfriend, girlfriend, husband, wife, mom, dad, aunt, uncle, friend, co-worker, even your boss. The options are punlimited!
The Pearls Before Swine 2018 Day-to-Day Calendar: King Wrong by Stephan Pastis from Amazon is full of the twisted humor and goofy puns that have made the Pearls Before Swine comic strip so popular.
Each page of this daily calendar features the antics of Rat, Pig, Goat, the Crocs, the lemmings, arrogant Jef the cyclist, or Victor the vegan in a hilarious Pearls Before Swine comic strip. The Sunday strips are in full color, and there's silly spot art on every page.
As an added bonus, the back of each page includes daily extra content such as puzzles, jokes, lists, quotes, activities, tips, and trivia.

Jokes. Puns. Knock-knocks. And so much more. This bestselling pun a day calendar from Amazon is guaranteed to deliver a year's worth of groans, giggles, and eye-rolls, plus a wealth of material for class clowns, office pranksters, and family jokesters. Poke good, clean fun at everyone from lawyers (What's the difference between a lawyer and a herd of buffalo? The lawyer charges more.) to feminists (Why did the feminist refuse to work at the post office? Because it was a mail-dominated industry). It's a laugh-a-day pun calendar for the whole family.

Spend the year with a pun wall calendar 2018 that is a hilarious illustrated play on words from Amazon. Cute and original illustrations as puns are displayed for every month.
This is a limited edition illustrated 2018 pun calendar from Etsy. Featuring 12 hilarious animal illustrations painted digitally and printed on 80 lb white cover paper. This year's calendar theme is famous literary characters with a twist – book characters cosplayed by animals because let's face, don't we all love animals? Each character's name is a funny animal pun. A perfect calendar or planner that will liven up any room or office desk.
There are 12 different literary characters.
• Sherlock Howlmes
• Goosey Pevensie
• Ron Weaseley
• Little Purrmaid
• Huckleberry Fin
• Anne Shearley
• Harry Pawtter
• Beary Poppins
• Haremione Granger
• Little Red Riding Woof
• Dumbleroar
• Frodo Dragons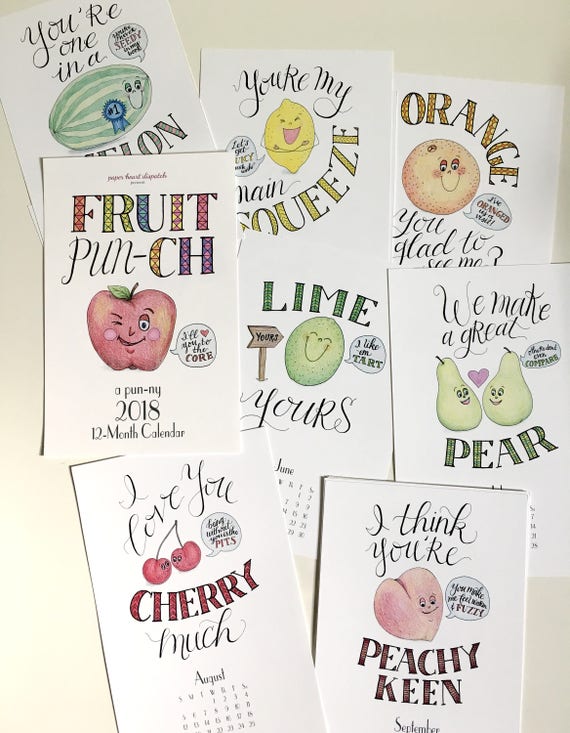 Each month of this 2018 wall calendar from Etsy features a cute fruit pun to bring a little humor into your days! Each pun is hand-illustrated and hand-colored, and has fun and cheeky puns from fruit characters. Funny (and punny), it makes a great gift item for a coworker, friend, or yourself!
This 12-month calendar features a page for each month, and comes ready to display with a binder clip to hang on a nail to the wall, or display by pinning pages to a wall or bulletin board. Dimensions of calendar pages are approximately 5.5"x8.5" (14cm x 121.75cm) in a vertical format. Each month has a fruit pun illustration (see images for all 12). Calendar can be hole-punched on request, or can also be displayed as a desk calendar on an easel if desired (not included).
Whether you're a Star Wars fan or just enjoy a little giggle, you'll love this funny wall calendar from Etsy. Perfect for the lover of puns and all things Star Wars. Great for your desk at work or home. Each month includes illustrations from The Force Awakens and and all of your traditional Star Wars favorite characters such as Darth Vader, Yoda, Sith, Princess Leia, Chewbacca, Luke, R2D2, Storm Trooper, and BB8.
Each calendar comes with 12 pages printed on heavy card stock with a wire coil binding on the top and a hole punched for easy hanging. There is also a heavy black card stock backer for rigidity.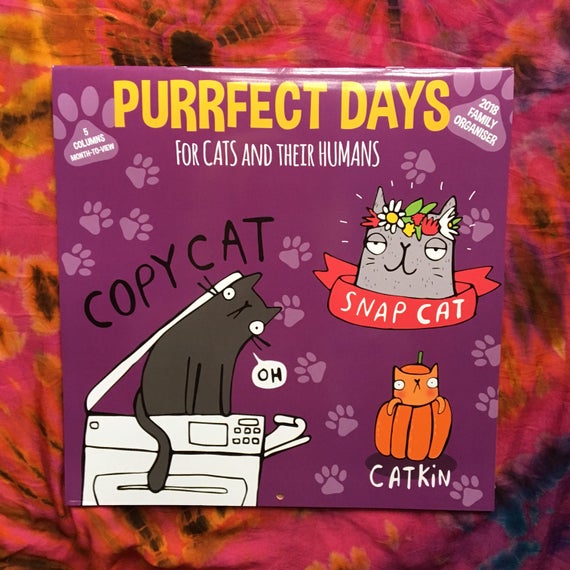 Keep your family and pets super organised with this Cat themed family planner from Etsy. Individual column space for up to five family members and a space for note writing.
Get ready to get your Pun on 2.0! This 2018 delicious pun with foods desk calendar set from Etsy features 12 original illustrations with a marbled cardholder stand. Perfect for the foodie in you and yours.
This is the tasty follow up to our 2017 which was featured in Buzzfeed and Huffington Post.

The Laugh-Out-Loud Jokes 2018 Day-to-Day Calendar from Amazon, based on the best-selling book series by Rob Elliot, is packed with 1,000 jokes—from one-liners and knock-knock jokes, to quick-witted quips and silly doodle challenges on the weekends.
So get your giggle on for a year's worth of good, clean, punny fun!
As an added bonus, the back of each page includes daily extra content such as puzzles, jokes, lists, quotes, activities, tips, and trivia.

As they say, you are what you eat – so get flirty and have some fun! From Amazon and brought to you by Studio Ink – another side of Hallmark – these foods are sarcastic, punny and maybe even a bit sassy. This 2018, 12″" x 12″" wall calendar is a top-selling format and has twelve colorful images with a 4-month bonus spread featuring January 2019 – April 2019.
As an added bonus, the back of each page includes daily extra content such as puzzles, jokes, lists, quotes, activities, tips, and trivia.